Sweden's Hammarby emerges as American testing ground
In 2002, American sports and entertainment behemoth AEG, owners of the L.A. Galaxy, bought a minority share of a blue-collar Swedish club called Hammarby IF. Over the course of the next decade, undoubtedly in part because of AEG's influence, Hammarby developed a strong connection to American soccer.

Hammarby's connection to American soccer began fairly innocuously. Boston College striker Charlie Davies passed on the opportunity to play in MLS and hopped over the Atlantic to start his pro career in Sweden's Allsvenskan, the way Americans sometimes choose Scandinavia for its proximity to bigger European leagues and higher entry-level salaries. The move wasn't shocking, but neither did it ensure that Davies would rise to any sort of prominence. Whatever the Allsvenskan's level, it's not so significantly higher than Major League Soccer's as to prove a successful young American player is any better than his domestically based peers.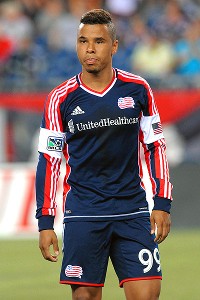 Bob DeChiara/USA TODAY SportsCharlie Davies would go on to score 21 goals with Hammarby before moving south to Ligue 1.
After a rough first season, Davies went on to score 21 goals in Sweden. He parlayed his time at Hammarby into a move south to Sochaux of France's Ligue 1 and more notably a role on the U.S. men's national team.

Davies' career was derailed by a car accident in the fall of 2009, but a precedent had nevertheless been set of Hammarby as a place that valued Americans and could launch careers.

By the time Davies arrived in Sweden, the invisible barrier for Americans in Europe had long been cast aside. American players, like seeds in the wind, scattered across Great Britain and the continent in the 2000s, finding jobs in big-name competitions and lesser-known leagues.

Hammarby figured to continue its prominent place among the varied destinations for Americans in Nordic lands following Davies' stint. Then the club was relegated after the 2009 season, decreasing its appeal. While dropping into Sweden's second division was a blow for the club, it did open the door to another kind of American trailblazer.

After a stellar career that included stints in Holland, Germany and MLS, former American international Gregg Berhalter took over as manager in 2012. The stated goal was to get Hammarby back to the top tier, but Berhalter's hiring also provided an American coach the chance to make a name in Europe soccer. American players might not be a rarity in Europe anymore, but few American coaches had ever broken through to hold the top job.

In 2012, Berhalter led Hammarby to a fourth-place finish in the Superettan, Sweden's second tier, one spot shy of a spot in the promotion playoffs. Befitting a man who played as a defender, Berhalter's squad was marked by organization at the back. But Hammarby found goals hard to come by, a trait that followed them into the 2013 season. He was fired 15 games into his second year.

Berhalter knew what he was getting into.

"You see that in European football, obviously," Berhalter said, addressing the club's decision to dismiss him halfway through the season, nine points adrift of a playoff place. "You know how fans are. They react to stuff; they react to results. They don't see the long-term vision, and they all have an opinion on what should be changed."

Whatever role AEG's involvement in Hammarby played in Berhalter getting his chance to coach in Sweden, the American company doesn't ultimately control decision-making. Hammarby is still a club, with the majority interest in the hands of a board responsive to an ardent fan base. Berhalter was a victim of long-standing instability in the managerial position, but he does not believe it had anything do with his American background or that European clubs are looking at national origin when considering a coaching hire.

"You can't get distracted by that. I was the eighth coach in five years [at Hammarby]," he said. "I don't see it as a culture thing. There's more of an individual aspect to it. If it's the right person for the job, it doesn't matter where he's from."

Berhalter's ouster came only days after AEG and Herbalife -- the L.A. Galaxy's shirt sponsor -- announced a deal for the nutrition supplement company to become Hammarby's shirt sponsor as well. The pact also involved pulling Hammarby and the Galaxy closer together and specifically mentioned the possibility of sharing players. What had been an ad hoc Hammarby relationship with American soccer, augmented by AEG's involvement in both clubs, was suddenly official.

In July, the Galaxy sent three young American players (Charlie Rugg, Bryan Gaul and Kenney Walker) on a training stint to Sweden. All three returned to California in relatively short order, Hammarby having passed on adding any to its squad.

That doesn't mean that Hammarby won't play a role in American player development in the future, but with the club in the second division for the time being, it does change the dynamic. Davies went to Hammarby to grow as a player and get noticed by European scouts; presumably, so did Baggio Husidic and Billy Schuler, the two Americans currently on Hammarby's roster. L.A.'s talent, if the agreement bears fruit, will go to grow as players and presumably return to the Galaxy with MLS stardom in mind.

Berhalter sees Sweden's -- and Hammarby's -- future role in American player development as dependent on a few factors.

"The top-tier players aren't necessarily coming to Scandinavia," Berhalter said. "Below that, it's a good ground to prove yourself and then move on from there. There are scouts every week in the stands from Germany, from Holland, from England because it's a good price point for them.

"The environment is a good environment to play in. Games are meaningful. If a guy's not getting regular first-team soccer in MLS, it would be a good ground for him to go and prove himself. The relationship can be very valuable from a developmental standpoint, particularly for players who wouldn't get the minutes you would like, to move them along from a development standpoint."

The relationship between Hammarby and MLS is changing, but not just because Hammarby is mired in the second division. It's also about the growth of MLS and the strides the league is taking as a place for young American players to make their names with an eye on Europe. In other words, things have changed since Davies decided the best path for his career was bypassing the American league.

"I see MLS taking that role as a developmental league and more scouts buying players directly from MLS," Berhalter said. "I see younger players trusting the fact that if they go play a couple of great years in MLS they'll get bought by a European club.

"Sweden's a perfect market for that now, but I see MLS being that market for that as well. MLS is getting a lot better. The product is getting better. The player pool is getting better."

MLS' improvement will have a direct effect on Hammarby's part in the education of American players. So far, the blue-collar club from the southern reaches of Stockholm with its direct ties to American soccer has given one young American a launching pad and given one young manager his first taste of coaching abroad.

Whether the future of the relationship holds more promise, only time will tell.