A focused Aron Johannsson hits the ground running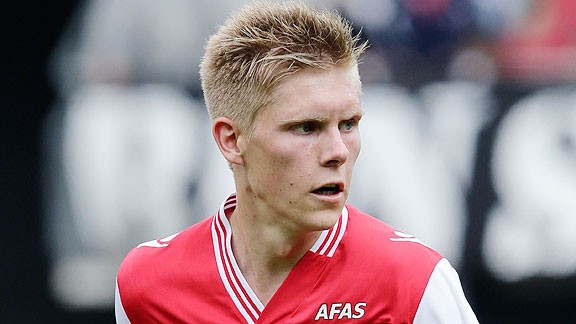 VI Images/Getty ImagesReplacing Jozy Altidore at AZ, Aron Johannsson is making the most of his opportunities.
Aron Johannsson's decision to play for the country of his birth over the country of his parents came with a short burst of white-hot controversy. The Icelandic FA spoke out about the AZ Alkmaar's strikers decision, lamenting it as being against the spirit of the international game. Fans in both the United States and Iceland debated the rightness of his choice. Johannsson's Facebook page -- where he first made the announcement that he would represent the USMNT -- filled up with heated support and criticism in both English and Icelandic.

Once the decision was announced, Aron himself stayed out of the harsh glare of the spotlight, choosing instead to avoid further comment and focus on the new club season in Holland.

That focus has paid off. Tasked with replacing his countryman Jozy Altidore as the lone striker in Gertjen Verbeek's 4-3-3 formation, Johannsson's early returns could hardly be better. Three league games, three goals. The first two came via the penalty spot in a loss to Heerenveen and a win over Ajax respectively and while scoring from 12 yards out takes makes those two goals less impressive than they might have been otherwise, it's worth pointing out that Johannsson has already earned the responsibility of taking AZ's penalties despite his relatively recent arrival.

Then came Johannsson's unexpected cameo for the USMNT in Sarajevo last Wednesday, one that revealed the 22-year-old's particular talents. Johannsson is far from the most physical forward and his fleetness of foot is hardly remarkable. But his first touch is excellent, and he possesses that necessary attribute of any good goalscorer: the innate ability to flash into just the right place at just the right time. Even more importantly, when he gets there he knows how to finish.

If the two penalty tallies didn't truly get Johannsson's season started as a goal-threat in the Netherlands, his fourth-minute goal on Saturday certainly did. Johannsson began the scoring for AZ in a 2-1 win over RKC Waalwijk, his first goal from open play this season. His lurking in the attacking third paid off as a missed clearance fell his way, allowing him to deftly chip goalkeeper Jan Seda -- right place, right time, good finish. Johannsson will have more impressive goals this year, but this one did exhibited many of the characteristics that will serve him well in Holland.


Aron Jóhannsson Goal RKC Waalwijk - AZ Alkmaar 0-1
by DutchEredivisieNL


Johannsson joined AZ Alkmaar from Danish side AGF Aarhus last winter and though he's not a exactly a new face in the AZ team, his role is significantly increased with the departure of Altidore to Sunderland this summer. It's a unique twist of fate that Johannsson joined AZ in time to make a connection with Altidore -- who may have played a role in convincing the Alabama-born Icelander to play for the United States -- and is now endeavoring to both replace him and play with him for club and country respectively.

For his country, Johannsson made an instant impact in a debut performance last week despite not showing up on the scoresheet. On the club side, Johannsson is already making headway on matching Altidore's 23 league goals from last season.

So far, so good.