Cavalry arrives at AC Milan
As expected after the dismal show against Sampdoria, Adriano Galliani has been prompted to delve into the market ahead of the transfer deadline. Along with French youngster Mbaye Niang, Milan have also secured the services of Bojan from Roma. On the basis of Sunday's performance, it was essential fresh faces were added to the squad, and Galliani has delivered two promising attacking players.

The acquisition of these two young talents provides further evidence that the club is moving in the right direction, looking to build for the future. Albeit Bojan's move is a loan deal, but it provides Massimiliano Allegri with varying tactical as well as personnel options this season, something that would have been severely lacking had they not arrived. Granted, neither bring with them prolific goal-scoring records, but this is a stage on which they should not only improve but relish.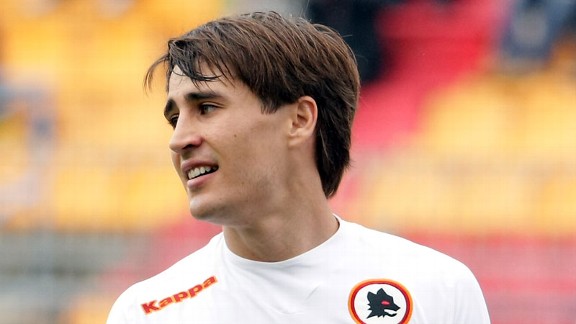 Bojan Krkic looks set to spend the season at the San Siro

© PA Photos

"I have made a big dream come true by joining Milan. Now it's up to me to prove that I'm good enough to be in this great club. Am I the new Henry? I don't like comparisons: Henry is Henry, and Niang is Niang." - Niang

Many have pinpointed the defence as an area that required improvement, yet against Sampdoria, and arguably it will be a similar case against the other provincial clubs this season, it was necessary to add attacking options. Reports suggest Robinho is likely to be ruled out for three weeks after picking up an injury against Samp, while Alexandre Pato is… Alexandre Pato. Giampaolo Pazzini requires sufficient service to be at his best, and with the speed and athleticism of Stephan El Shaarawy and Bojan beside him, he could flourish.

The full list of notable arrivals thus reads as follows: Gabriel, Francesco Acerbi, Cristian Zapata, Kevin Constant, Bakaye Traore, Riccardo Montolivo, Mbaye Niang, Bojan and Giampaolo Pazzini. The average age of that group of new additions is 24, amongst the panic, criticism and question of quality perhaps that should be remembered. Ideally, defensive duo Cristian Zapata and Francesco Acerbi will make their debuts sooner rather than later, while Antonio Nocerino summed up the mood within the Milan camp perfectly after the Sampdoria defeat:

"We're disappointed to have lost, but there's no need to start crying. It's the first day of the season. We'll all have to roll up our sleeves, put our heads down and get to work. Milan is still Milan, and we should be supported as we're the most important team - the one that has won the most" - Nocerino.

It's not an issue for debate as Milan simply do not have the strongest squad in the league, and as demonstrated in the Sampdoria game this will be a testing and problematic season. However, with time they will gradually improve, and with two days left in the transfer window, perhaps Galliani has another surprise for us yet.

Pleased with the arrivals of Niang and Bojan? What/how much can they contribute this season? Leave your comments below.

For all the latest Milan and Serie A news, you can follow me on Twitter @italiafooty