Enigma Taarabt hoping to shine in Milan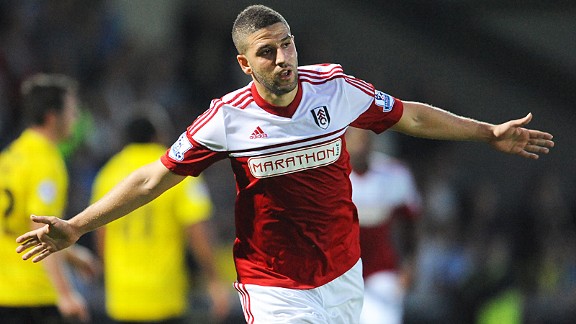 GettyImagesAdel Taarabt has moved on from Fulham to Milan.
All footballers aspire to be the best and play for the biggest clubs. Since his move to Tottenham in January 2007, Adel Taarabt has arguably struggled to reach his potential, aside from a successful spell with QPR, yet he finds himself on the verge of displaying his skills in front of an expectant San Siro crowd.

The 24-year-old joins the Rossoneri on an initial loan deal, although speculation suggests that there are ongoing talks regarding a buy-out clause at the end of the season. Hailed as the next Zinedine Zidane in his early years, Taarabt can use this ideal time and stage to convince the critics that he is a world-class player who can consistently deliver behind the tantrums and disappointment.

As a friend and R-Block regular at Loftus Road tells me, having spent time marvelling at the Moroccan's talents and playing a pivotal role in fez-related goal celebrations, there is plenty of upside to this move, but much will depend on his temperament and desire to flourish at Milan, which Taarabt describes as the "biggest club in Italy."

It is another bold move from Clarence Seedorf after the Dutchman added Michael Essien to his squad earlier this week, but the biggest criticism so far of his transfer strategy is that he is perhaps recruiting in all the wrong areas.

Taarabt will now likely compete with Kaka, Robinho, Keisuke Honda, Riccardo Saponara, Valter Birsa and a returning Stephan El Shaarawy for a place in Seedorf's 4-2-3-1 system while Essien will have his own battle to fight for a spot in the two-man protective screen in front of the defence.

However, the inexperienced coach clearly has an idea in mind, one that just added an element of excitement to the squad considering Taarabt's attributes.

The former Fulham star claims that he has spoken with Seedorf already and that both parties are happy with his arrival. He went on to reveal that he likes to play behind the striker but is just as comfortable operating on either flank, adding flexibility and options for Milan's coach when choosing the three-man support for Mario Balotelli.

Naturally, Taarabt is looking forward to linking up with Super Mario, and while there is a risk that the duo could end up in a brawl by the end of next week, the intrigue of seeing them paired together is far greater.

Taarabt's objective is clear. He is in Milan to score goals, lay on assists and generally delight the Milan fans with his trickery and dribbling skills. Previous comments of the Rossoneri being a "stepping stone" have been well documented, but ultimately considering that Milan have long been criticised for losing their ability to entertain, he should at least be given a chance to succeed.

In short, the club has backed Seedorf, who has made his move and set the stage. Over to you, Adel ...

What is your reaction to the loan signing of Adel Taarabt?

For all the latest Milan and Serie A news, follow Sumeet Paul on Twitter @italiafooty.