Leap into the unknown as Seedorf returns
"I like challenges, and coaching Milan will be another challenge in my career. I'm delighted with the opportunity the club have given me and I'm very motivated to do well."

Having announced his retirement after a playing career spanning across two glorious decades, Milan legend Clarence Seedorf confirmed that he would be the Rossoneri's new coach at a press conference in Brazil on Tuesday.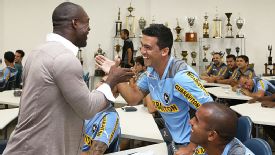 GettyImagesClarence Seedorf says goodbye to his Botafogo teammates before he heads for Milan.
The Dutchman will return to the club amid a mixture of intrigue and apprehension with no previous coaching experience, but instead with a tactical mind and personality that have been praised by former teammates and coaches alike.

- Vickery: Opportunity knocks

It is undoubtedly a risky move from Silvio Berlusconi, particularly considering that the Curva Sud have consistently opposed such an appointment given Milan's precarious position moving forward.

Was Seedorf the ideal choice for the majority of Milan supporters? Arguably not as the option of having an interim solution before perhaps targeting Cesare Prandelli in the summer appeared to be a more logical choice.

Nevertheless, the blueprint is there following the successful stints under Arrigo Sacchi and Fabio Capello, and the hope now is that Seedorf can follow in their footsteps rather than overseeing a disastrous experiment over the next four months.

Critics will undoubtedly point out that Seedorf has never managed before, and perhaps the magnitude of the job is too big a step to take in his first foray into coaching. While that question can only be answered with time, it is still a fascinating appointment that promises a great deal.

Initially, the 37-year-old will look to implement his preferred playing style and tactical setup, which will with hope result in a vastly more entertaining Milan side. Expectations are perhaps low, which will work to his advantage, although the Coppa Italia and Champions League remain objectives.

However, Seedorf is not a miracle worker, and there are flaws within this squad that he will have to address in the summer with the help of the Milan hierarchy, and further he should not be criticised and made a scapegoat for failure as Massimiliano Allegri experienced.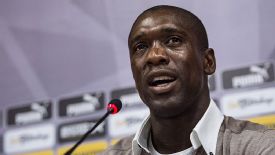 GettyImagesClarence Seedorf explains his decision to retire from playing with Botafogo to manage AC Milan.
While he has attacking options in abundance which will hopefully flourish under his guidance, he should already be fully aware of the requirement to strengthen in defence while also finding the right balance in midfield.

Speculation suggests that the likes of Jaap Stam and Hernan Crespo will form part of his coaching staff in the summer, and given a similar setup involving former players has worked well for another European giant in Ajax, it is an exciting move from the Rossoneri.

Given that this is Seedorf's first coaching role, there is understandably tension as to whether or not he can oversee the development of this squad and lead them into a new cycle of success. Can he handle the personalities in the dressing room? Does he have the tactical intelligence to outwit his rivals?

The Dutchman will need time, patience and guidance both on and off the pitch in order to make his return a success as he looks forward to renewing the "special relationship" he has with the Rossoneri.

Is Seedorf the right man for the job, or is it a risk that Milan should not have taken?

For all the latest Milan and Serie A news, you can follow me on Twitter @italiafooty