Balotelli magic rescues point for Milan
Despite the mediocrity that surrounded him in Livorno on Saturday evening, Milan striker Mario Balotelli produced another sparkling performance to rescue a 2-2 draw. While he almost sealed all three points with an incredible effort late on, it wasn't to be for the Rossoneri who also lacked a little luck.

Prior to the game, the question was asked as to whether or not Balotelli could emerge as a leader of this Milan team moving forward. His recent troubles both on and off the pitch appeared to have destabilised him temporarily, but his displays in the last three games have proven just how talented he is, and can be.

- Milan stutter at Livorno

Nevertheless, there are aspects that are firmly out of his control, and that includes the solidity of the Rossoneri's defensive line. Although there are perhaps few, if any, long-term admirers of Daniele Bonera, it is almost inexcusable as to how Philippe Mexes walked straight back into the starting line-up on Saturday.

Bonera, selected alongside two different central defensive partners in his two games over the past week looked like he was possibly finding his feet, and played an integral role in Milan conceding just once on trips to Celtic and Catania.

However, that seemingly wasn't enough for Massimiliano Allegri to keep faith in him for Livorno, who relished the prospect of causing countless problems with the pace and movement of Paulinho and Luca Siligardi.

Milan's defensive frailties have caused the club problems both on and off the pitch, not only having a direct effect on the results but also on the job security of the front office, who have been criticised for their recent recruitment.

While the issue has since been addressed with Adil Rami available for selection from January, there is still some concern as to whether or not he represents the solution to the problem entirely. However, it is clear that if Milan are to be successful then they can ill-afford the inconsistency provided by Mexes and Cristian Zapata.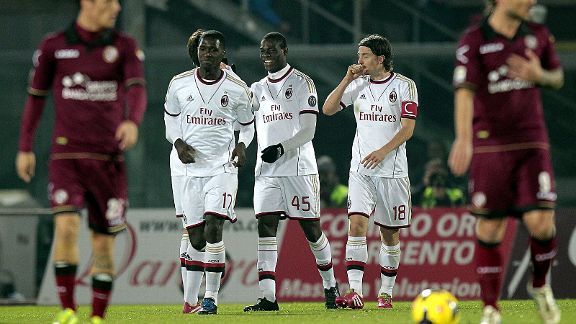 GettyImagesAC Milan's Mario Balotelli (centre) celebrates after scoring against Livorno.
In addition, another disappointing aspect of Allegri's selections was his decision to bring M'Baye Niang on in an attempt to have an influence on the game as Milan looked for a way back in.

Granted, the Frenchman is still young, but that excuse is no longer good enough if there is to be persistence in pushing him into the first team. His inability to score, cross and at times dribble successfully is a real disappointment, and while that is perhaps harsh there is little to suggest that it isn't true.

In contrast, Milan deserve credit for battling back to secure a draw on Saturday evening, but the fundamental issues with this team continue to set them back.

While it is promising for Allegri that he is managing to extract the best out of Balotelli again, his unwavering confidence in his defenders must be questioned given their deficiencies.

Additionally, as pointed out by the Milan coach in his post-game reaction, the Rossoneri must match the effort of their opponents, but also maintain their composure and dominate given their superior individual quality. A repeat performance on Wednesday night against Ajax, and the result will be disastrous.

What did you make of the draw against Livorno? Is it just bad luck or same old problems for Milan?

For all the latest news on Milan and Serie A, you can follow me on Twitter @italiafooty