End of an era as Galliani confirms resignation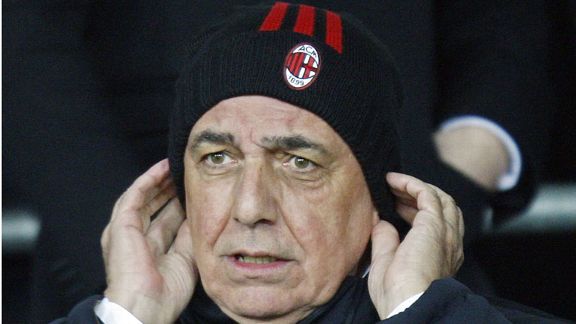 APRegardless of his recent problems and even after he leaves, Adriano Galliani will always love AC Milan.
After 27 years at the club, Milan vice-president Adriano Galliani has confirmed that he will resign from his position in the coming weeks. Following on from Barbara Berlusconi's declaration of her new vision for a modernised structure at the club, the strained relationship has resulted in an unsavoury parting of ways.

- Silvio to redouble Milan efforts?

In recent weeks, 'Lady B' has insisted that the Rossoneri must evolve and adopt a new business philosophy, one which would have to sacrifice Galliani despite her claims to the contrary.

Poor results on the pitch have led to criticism off it, and while that is perhaps fair considering the overall quality of the current squad, it is vital not to forget the level of success the club has enjoyed since Galliani arrived to help lead the Berlusconi era.

Nevertheless, it is accepted that the club is ready to embark on a new direction that will come with its risks as well as exciting new benefits.

"I will resign with good reason in a few days. Maybe I will wait until after the game against Ajax," Galliani told reporters on Friday. "My reputation has been damaged and I will go with or without a severance package. A generational change is fine, I understand that, but not like this. A bit more elegance was needed."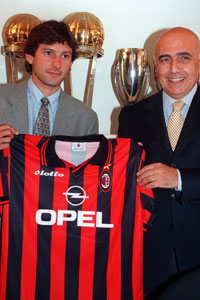 APAdriano Galliani welcomes Leonardo to the club in 1997; the vice-president has been responsible for signing some of the world's biggest players for Milan.
Considering Galliani's record and his bulging book of contacts, his departure is undoubtedly a huge blow for the club. His work in the transfer market and the commercial sector has been integral for the Rossoneri over the past three decades, and he is arguably irreplaceable in that respect.

However, two years ago Milan had a clear vision for their long-term future. Agreed upon by all those within the hierarchy and given the financial health of the club, the plan would be to invest in young talents for the future and build a squad capable of challenging for years to come.

That vision was partly neglected this past summer, as was the requirement to strengthen in both defence and midfield. As a result, Milan find themselves adrift of a top-three finish and are staring at the very real prospect of missing out on Champions League football next season.

Granted, the blame can't solely be attributed to Galliani, but there are suggestions that the standard of his work in the transfer market has slowly declined in recent times. In mitigation, it has coincided with the club's financial restrictions.

Galliani has been an integral part of Milan's evolution over the past 27 years, but Barbara Berlusconi ultimately feels the time is right to hand the responsibility over to a new-look set-up. Having studied the European landscape for over two years since her arrival as a director, she is arguably in a good position to judge the path of the club moving forward.

Nevertheless, the manner in which Galliani will leave is perhaps the most disappointing aspect of the situation. Rather than leave with a successor gradually receiving increased responsibility, he has ultimately been forced out of the club that he undoubtedly loves.

While Milan fans should be thankful for his contribution over the years, it is perhaps the right time to welcome in a new era at the club with Barbara Berlusconi leading the way.

For all the latest news on Milan and Serie A, you can follow me on Twitter @italiafooty