Milan's forgotten man nearing a return
While injury has sidelined him since September, his name was notably absent from a recent list in Gazzetta dello Sport when predicting Cesare Prandelli's Italy squad for the World Cup. The Italian media hasn't forgotten him entirely considering the on-going transfer speculation, but Stephan El Shaarawy's return to the pitch will be most welcome Saturday at home against Genoa.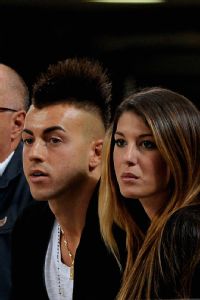 Claudio Villa/Getty ImagesMilan's Stephen El Shaarawy has been a spectator for most of this season.
Reports suggest that he will be on the bench for the match, and should he fail to feature then he is expected to make his comeback against Celtic on Tuesday in the Champions League.

Regardless of all the scepticism last season regarding his apparent inability to play alongside Mario Balotelli, his dynamism, work rate and goal threat have been sorely missed over the last month or so and the hope will be that his return coincides with an upturn in form for the Rossoneri.

Nevertheless, the transfer rumours fail to go away, with his agent suggesting on Wednesday night that if Galatasaray meet their terms and conditions then they will be ready to talk.

-Constant humbled by award nomination

However, arguably the most important point of the situation continues to be largely ignored, and that is that El Shaarawy does not want to leave Milan.

The 21-year-old has consistently stated his desire to remain at the club, even in the face of intense interest over the summer when his departure seemed likely. As a result, it is about time that an end was finally put to the rumours which would in turn allow him to focus on helping Milan and re-establish himself with the Azzurri.

While that will mostly depend on whether or not Massimiliano Allegri gives him regular playing time, El Shaarawy isn't the only player to have dismissed transfer speculation this week.

During the Fondazione Milan event held on Wednesday, Balotelli insisted that he "wasn't thinking about the transfer market" and that he is "happy to be at Milan."

However, that hasn't entirely dismissed the notion that he could leave, with the latest rumours suggesting that a swap deal with Chelsea could be in the offing.

Much of any future dealings will largely depend on Milan's financial situation, which will undoubtedly be affected by the potential lack of Champions League revenue next season. The club is already restricted in that sense, and coupled with their recent history of selling top players to either reduce the wage bill or alleviate ongoing debts, it remains a concerning issue.

Therefore, there is the potential that a difficult question will be posed to the Milan hierarchy in the forthcoming months. Do they sacrifice part of the attacking duo once heralded as the future of both club and country in order to strengthen the squad, or hold on and hope to implement another strategy with new management next year?

The disappointment of a change in approach on the transfer market is magnified when considering this issue, as Milan undoubtedly moved away from their promise to identify and acquire talented young players for the long-term.

In an ideal situation, there would be genuine confirmation that neither El Shaarawy nor Balotelli would be leaving the club in the near future. However, there are already ominous signs that a sacrifice could well be made.

If forced into a decision, would you keep El Shaarawy or Balotelli? Can the former inspire Milan to improve on their current form?

For all the latest Milan and Serie A news, you can follow me on Twitter @italiafooty