Revolution talk on hold as Barcelona await
Over the past three days, much of the talk surrounding Milan has evolved from questioning Massimiliano Allegri's position as coach, to wholesale changes being made within the structure and hierarchy of the club.

At the forefront has been Milan director Barbara Berlusconi, who has spoken of a change in "business philosophy" this week, but denies that she had asked for Adriano Galliani to be replaced.

- Report: Allegri handed job assurances

However, speculation in the Italian media has not only suggested that Paris Saint-Germain may now be looking to poach the vice-President, but also that a meeting has reportedly taken place between the Rossoneri and club legend Paolo Maldini to discuss a potential return in an operational role.

Much of what has been said points toward a transition from the old generation and approach under the Silvio Berlusconi and Galliani partnership, to one that embraces a vision for the future under the guidance of the owner's daughter.

As La Gazzetta dello Sport put it on Tuesday, she has now "served her apprenticeship" having studied the way the club works and researched those from across Europe, and it is perhaps fair to say that the business model that Berlusconi Jr. would like to implement is not too dissimilar to that of their opponents on Wednesday night.

Her vision is built on the cornerstones of "marketing, growth of talent and results", and having also studied the example set by the likes of Ajax and Bayern Munich, there is a significant emphasis placed on the development of talent within the youth academy.

The Spaniards are famed for their ability to bring through quality youngsters on a consistent basis, which in turn allows them to spend substantially each year on a "champion" as Italians like to label them.

While there are perhaps doubts over their financial health, the model is both efficient and successful, and with their playing style coupled with individual talent at the coach's disposal, they have been able to take the club to the top not only on the pitch, but as a brand too.

Ultimately, that is the aim for Berlusconi, but with the struggles on-going at Milan, perhaps this is not the right time to be discussing how the club will change moving forward.

Having secured an important, and impressive, point against Barca at the San Siro a fortnight ago, the Rossoneri must believe that they are capable of repeating that feat when they enter the Camp Nou.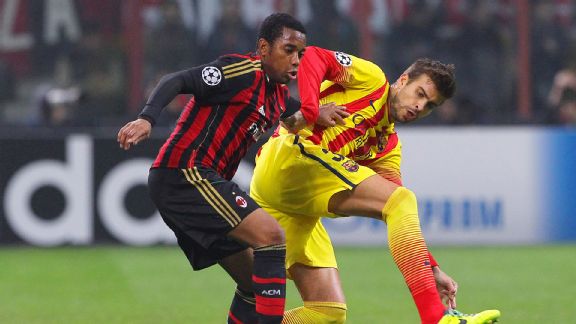 Marco Luzzani/Getty ImagesA point at the Camp Nou against Gerard Pique and Barcelona would go a long way to helping Robino and Milan regain some confidence.
While many will want to erase the memory of their last trip to the stadium, it is vital that the frustration and disappointment from that night is used as a catalyst to seal a result which will put Allegri's side in a much stronger position as we reach the business end of the group stages.

With a trip to Celtic and the visit of Ajax still to come, those are arguably the more important games as they are against direct rivals for second place, presuming Barcelona deliver on their expectations.

As a result, in many ways, any sort of result in Spain can be seen as a bonus moving forward, but considering the precarious position the club are currently in, Allegri and the players will be fully aware that a result would go some way to repairing the damage of the past week.

Can Milan take anything away from the Camp Nou? What are your thoughts on Berlusconi's reported plans?

For all the latest Milan and Serie A news, you can follow me on Twitter @italiafooty