Balotelli talk overshadows Lazio preparations
Having made the headlines for being substituted during the loss to Parma on Sunday, an eventful week for Mario Balotelli continues with car accidents, speculation of an exit and hopes of improvement on Wednesday night against Lazio.

The 23-year-old has had a love-hate relationship with the media since he first arrived in football. Gradually, his return to Italy is producing the same issues as when he was in England. While the club continues to support him and influential figures insist that he must be left alone, the problem remains that 'Super Mario' sells newspapers.

-Allegri: Balo staying at Milan

While manager Massimiliano Allegri conceded that he had a bad game at the Tardini, he is confident the Italian international will put in a much-improved effort at the San Siro where three points are now vital to the Rossoneri in their bid to turn things around.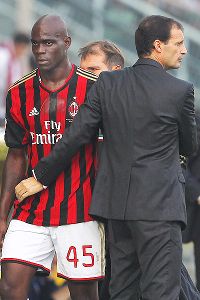 Marco Luzzani/Getty ImagesMario Balotelli and Massimiliano Allegri are both under pressure at AC Milan, especially after Sunday's loss at Parma. Allegri took Balotelli out in the 52nd minute.
The Milan coach complained there is "too much discussion of the man's private life," and that when he suffers a dip in form, a natural occurrence for any player, it is blown out of all proportion when it concerns Balotelli.

However, while the sentiment behind his words was important in backing his striker, they will do little to change Balotelli's reputation and keep him out of the papers for even the smallest infraction. The fact is, and frankly it is quite unfortunate, is Balotelli is a media dream and it will forever scour his personal life for stories.

Former midfield star Demetrio Albertini led the chorus of key figures in emphasising the importance of Milan keeping Balotelli, with agent Mino Raiola looking to open up the possibility of a switch to Chelsea.

Given that Raiola is a shrewd businessman, there have been suggestions that it is merely a ploy to ensure Balotelli receives a pay raise, but the possibility of losing the striker is a scary prospect given his importance to the club.

Meanwhile, Allegri had his name in the headlines on Tuesday after it was discovered that his name was placed on eBay for one euro and described as a coach "without ideas or character". A disillusioned supporter went on to add that he doesn't know how to train players, can't motivate and only specialises in games against Barcelona.

Sarcasm aside, the pressure continues to build on the beleaguered coach following a string of disappointing results. Unless there is a drastic turnaround domestically in the coming weeks, his position will come under further scrutiny.

He has insisted Milan must be very attentive against Lazio, and it is a necessity that they cut out any mistakes from their game, which are currently being relentlessly punished.

Nevertheless, should they continue, then the search for Allegri's replacement will start sooner rather later, with the expectation that a successor may be identified next summer when Allegri's contract expires.

Mattia De Sciglio will return, but as has been the case for some time, with positive news comes another setback as Matias Silvestre has been ruled out with injury.

Meanwhile, it would be a boost to see Kaka get an extended run, but ultimately there's a feeling that it could be Balotelli who writes the headlines on Wednesday night, but hopefully for all the right reasons.

Is the media coverage of Balotelli unfair? Do you see it forcing him out of the club?

For all the latest Milan and Serie A news, you can follow me on Twitter @italiafooty