Why Milan must sign Ljajic now
Last month, the question was asked whether Milan should sign either Keisuke Honda or Adem Ljajic as a replacement for Robinho. While the Brazilian's move home failed to turn into reality, the Rossoneri are still being frustrated by a lack of movement in the transfer market.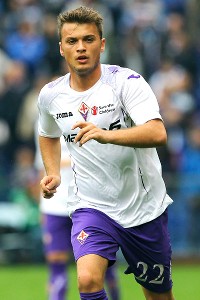 Marco Luzzani/Getty ImagesFiortentina is not letting Adem Ljajic go without a battle.
Negotiations with CSKA Moscow for Honda appear to have ended for now, with the general consensus suggesting Milan will be forced to wait until January in order to sign him on a free transfer.

While it will undoubtedly prove to be a sensible move in the eyes of those monitoring the books at the club, the negative consequence is that the 27-year-old will not be available in the Champions League should Milan qualify.

-Allegri confident in youthful squad

As a result, attention has switched to Ljajic over the past week with vice president Adriano Galliani submitting a formal bid of 8 million euros for the striker. The offer was later rejected, with Fiorentina releasing a statement in which they condemned Milan's behaviour and their "inopportune" offer.

As tensions sour between the clubs despite Galliani's protests of innocence in merely making an offer for a player during the transfer window, La Gazzetta dello Sport reported on Wednesday the Viola intended on including an "anti-Milan" clause in Ljajic's new contract.

The clause in question would implement a €12m buy-out fee which would only be applicable if it resulted in Ljajic moving abroad, thus landing a further blow to Milan's hopes to signing him.

It is still unclear at this stage as to whether the Serbian international wishes to leave Florence, although owner Andrea Della Valle has hinted at a willingness to stay and has in turn made his position clear on the matter.

The talented youngster must either agree to Fiorentina's offer, or risk being placed on the market in order to avoid a scenario where the club lose him for nothing in 12 months.

While it is also unclear as to how much Milan are willing to increase their bid, it has become apparent that this transfer saga threatens to rumble on for weeks and will further sour relations between the Serie A clubs.

Ultimately, the decision rests with Ljajic, who could effectively reject Fiorentina's proposal and leave the possibility of a move to Milan open this summer. In contrast, he could choose to accept Della Valle's offer and remain in Florence where he will undoubtedly continue to develop his immense talent.

Ljajic has been described as being "on the verge of becoming a world-beater" by respected scouts and his value is expected to double if not triple this time next summer. After scoring 11 goals last season as a support striker, his talent ceiling is extremely high. Signing a new deal would strengthen Fiorentina's position no end, and in light of the potential clause, Milan's best chance of moving for him is now.

A meeting between the starlet's father and Fiorentina officials was postponed on Tuesday, leading to further speculation that Milan still have a chance of coming to an agreement ahead of the new season.

Generally speaking, the feedback received following last month's post was that Milan should sign Honda. While the talented playmaker will in all probability arrive in January for free, Galliani must face adversity and use his skills in the transfer market to move for Ljajic now.

Is Ljajic worth all of the fuss? Should Milan increase their bid, and are Milan and/or Fiorentina acting out of line?

For all the latest Milan and Serie A news, you can follow me on Twitter @italiafooty