Milan's policy of youth against established talent
It has been an impressive transfer window for a handful of clubs in Serie A, with the likes of Mario Gomez, Carlos Tevez and Dries Mertens joining the league. While Milan's rivals continue to strengthen, is the decision to rely on youth becoming more of a gamble?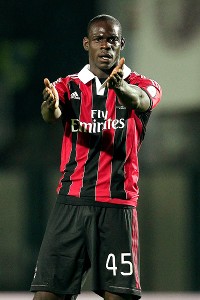 Gabriele Maltinti/Getty ImagesMario Baloteli, now the "icon" of Milan according to Adriano Galliani, will be expected to be one of leaders of the young club this coming season.
Little is now expected to change at Milanello this summer, with an official announcement from Santos on Wednesday night stating they have withdrawn interest in Robinho.

An inability to agree on the financial terms ensured the Brazilian will now remain with the Rossoneri, thus potentially scuppering any move for Keisuke Honda or Adem Ljajic ahead of the new season.

As a result, while Adriano Galliani has done a great job in continuing to lower the average age of the squad and build toward a brighter future, are Milan risking their more immediate success by neglecting the requirement to bring in more established players in key positions?

Firstly, it is important to address the positive aspects of this summer window to date, with Massimiliano Allegri again benefiting from an eager and younger group of players.

- Santos call off Robinho pursuit
- Berlusconi: Milan can win title
Essentially, Milan have replaced the likes of Mario Yepes, Mathieu Flamini, Massimo Ambrosini and Bojan for Jherson Vergara, Andrea Poli, Bryan Cristante and Riccardo Saponara.

They are an exciting core that will look to become mainstays in the squad for years to come, with the added benefit of primarily being young Italians who will undoubtedly hope to become involved on the international stage through to the senior squad.

In addition, Milan's "icon", as Galliani recently described him, will lead them from the first game of the campaign as opposed to providing a boost in January, with Mario Balotelli looking to establish himself among the best in the world.

Given the club's form in the second half of last season, it would suggest that little needs to be done in improving the current squad, with the youngsters providing the additional boost to ensure Milan remain competitive on all fronts.

As demonstrated through Stephan El Shaarawy and Mattia De Sciglio last season, it can be a fruitful process, with the young duo set to continue their evolution into established first-team players who will hopefully continue to mature and improve.

Nevertheless, it is becoming slightly concerning given the activity around them that Milan may find the competition increasingly more difficult as the new season approaches.

Galliani spoke this week of Milan's achievement in consistently finishing in the top three in the league, and that again is a minimum objective in the new season along with a strong showing in Europe and a Coppa Italia success.

Having faced adversity and prevailed last season, the character of the squad would suggest that they are capable of continuing to improve and remaining competitive despite the moves made by their rivals.

Ideally, Cristante, Poli and Saponara will add further quality, intrigue and promise to this Milan squad now burgeoning with young talent. While it is slightly worrying watching the new faces arrive elsewhere in Italy, there is also still plenty of time left in the market for things to change.

Do you still trust in Milan's strategy? Are you worried by the arrivals elsewhere?

For all the latest Milan and Serie A news, you can follow me on Twitter @italiafooty