'Golden boy' Cristante signs with Milan
Fresh from being named the best player at the Viareggio Cup and handed the 'Golden Boy' Trophy as a result, Bryan Cristante capped off a busy week by signing his first professional contract with Milan Monday.

Putting pen to paper on a deal until June 2018, it isn't a bad way to celebrate your 18th birthday, is it?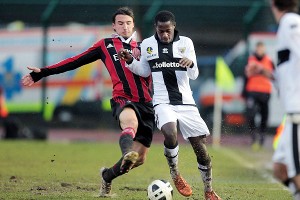 Gabriele Maltinti/Getty ImagesAfter helping Milan's youth team win a prestigious cup, Bryan Cristante, left, is set to begin his pro career.
Cristante has long been touted to be the next product of Milan's youth system to be successfully integrated into the first-team squad. He will have been familiar to most Milan fans prior to signing his new contract, having particularly caught the eye during the Rossoneri's preseason games last summer.

"My preferred role is in front of the defence. I'm inspired by Riccardo Montolivo, and I study him and [Marco] Verratti closely," he told La Domenica Sportiva.

What sets Cristante apart from other prospects is his footballing brain. Taking the fancy tricks and flicks away, what is more important for a player of his position is to be able to read the game and have both the vision and skill to execute.

Cristante appears to have both, regularly finding space and demanding the ball in order to spray passes around the pitch with ease and trying to dictate play. Milan coach Massimiliano Allegri has implemented a balanced and organised 4-3-3 this season which has delivered results, but with a lack of ball-playing midfielders there is certainly a gap in the first team for Cristante to fill.

CEO Adriano Galliani said the club would be assigning an assistant to Allegri, with the sole purpose of passing on tactical indications and training methods to the youth sector coaches in order to help mold the teams to fit the first team set-up.

Cristante represents the latest success story to originate from the youth team, following in the footsteps of Mattia De Sciglio. It appears that Milan have learned from past mistakes and are building for the long-term future.

Even though the club have experienced a huge turnaround since the start of the season, the main criticism in September was the absence of a plan to deal with the departure of so many senior players.

The new plan has taken a few months to catch up, but with De Sciglio and Cristante joined by the likes of Bartosz Salamon and Riccardo Saponara, it is clear there is a real nucleus being created for the future.

The club have placed evident trust in Cristante and see him growing into an important player considering the five-year contract he signed.

"Is Cristante is the new Pirlo? Calm down. Let's not act like the Brazilians, who value their players at €20 million after just two goals," Galliani told reporters.

As is a regular theme in modern-day football where there is an obsession to compare players, he may not be the new Pirlo, but Bryan Cristante could well be just the latest in a long list of youngsters set to make their mark on the club.

What do you make of Cristante? Would you prefer to see Milan develop him instead of going out and spending big money on a young player such as Verratti?

For all the latest Milan and Serie A news, you can follow me on Twitter @italiafooty