Forza Milan! Barca beaten
They said Milan were weak and Barcelona would have too much. Yet following Milan's 2-0 win on Wednesday night over the Catalans at San Siro, the Rossoneri proved those doubters wrong - very wrong.

- Tomas: Camp Nou awaits after disappointing defeat
- Delighted Allegri hails magnificent Milan

More importantly, they showed exactly what this team is capable of, and with this win they go to Camp Nou with an opportunity to go far beyond the point many expected.

First, praise must be given to the coach: "(Massimiliano) Allegri was the best player for us tonight. He laid out the perfect plan and instilled the discipline," goal scorer Sulley Muntari said after the match.

The game plan was evident, and it couldn't have worked better. Milan kept their shape throughout and broke with purpose as they searched for the goals to take to Spain for the second leg.

Milan was tireless from the first minute to the last, and there will be those who criticise the approach. Yet considering the predictable dominance of possession from Barcelona, Milan executed a near-perfect defensive display, which resulted in an odd yet very much welcomed quiet night for Christian Abbiati.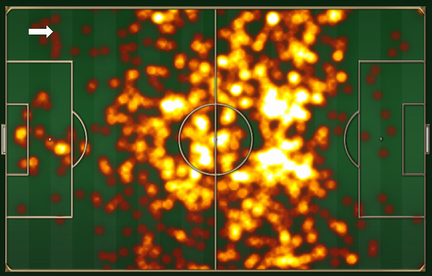 Other / ESPNHeat map of all of Barca's 961 touches, 11 in the penalty area. Milan put up a wall right at the 18-yard line.
Goals from Kevin-Prince Boateng and Muntari now give the Rossoneri real belief that they can achieve what had appeared almost impossible before the game. However, as pointed out by captain Massimo Ambrosini afterward, the job is still only half done.

Second, praise must be given to the players. While Allegri masterminded the victory, the 11 men on the pitch were also disciplined in their approach and played their roles perfectly.

Regardless of whether they had a direct impact on the result, from the defence right through the midfield to the three front-men, all contributed to a much-deserved win as they successfully closed out Barcelona with tactical sense, awareness and physical authority.

From Riccardo Montolivo's dominant display in the middle, to the tireless jobs done by both Boateng and Stephan El Shaarawy in tracking back to close out the Barcelona full backs as their teammates did the same in the middle, it was a performance scattered with fantastic feats.

Of course, there will be those who will argue that Barcelona weren't at their best. However, Milan had a huge part to play in that and secured a fully deserved win having found the way to nullify their threat.

The last word will go to Allegri and his blueprint for his players to follow. It was a blueprint that not only silenced Lionel Messi, but the entire Barcelona team and resulted in a memorable result for all Milanisti to enjoy.

"In order to win these games, you need everyone to sacrifice themselves and work hard. We kept Barcelona out of our penalty area, and they didn't have a single real shot on goal," Allegri said.

"The players deserved this victory without question. We won an important game against Barcelona, which I believed in and nobody else did. We now have three days to recharge our batteries and prepare for the derby."

While Inter await on Sunday night, for now Milan can enjoy a surprising and hard-earned win on another fantastic European night at San Siro.

For all the latest Milan and Serie A news, you can follow me on Twitter @italiafooty.